Maria Chlouveraki's webpage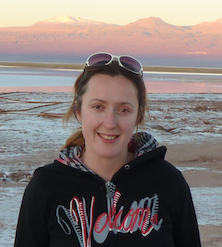 | | |
| --- | --- |
| Address: | Laboratoire de Mathématiques de Versailles |
| | UVSQ / Université Paris-Saclay |
| | Batiment Fermat |
| | 45 avenue des Etats-Unis |
| | 78035 Versailles cedex FRANCE |
| Tel.: | (+33) 1 39 25 46 38 |
| E-mail: | maria.chlouveraki@uvsq.fr |
---
About me
I hold a position of Maitre de Conférences at
Université de Versailles-St Quentin
since 2012.
My research interests include: Representation theory, group theory, algebraic combinatorics, low-dimensional topology, knot theory, Hecke algebras, complex reflection groups, finite reductive groups, braid groups, symmetric algebras, Cherednik algebras, Yokonuma-Hecke algebras, Temperley-Lieb algebras, Markov traces, knot invariants.
Publications


With Hyohe Miyachi, Decomposition matrices for d-Harish-Chandra series: the exceptional rank two cases, LMS Journal of Computation and Mathematics 14 (2011), 271-290. Erratum.

With Iain Gordon and Stephen Griffeth, Cell modules and canonical basic sets for Hecke algebras from Cherednik algebras, AMS Contemporary Mathematics Vol. 562 (2012), 77-89.

With Nicolas Jacon, Schur elements for the Ariki-Koike algebra and applications, Journal of Algebraic Combinatorics 35, 2 (2012), 291-311.

With Sofia Lambropoulou, The Yokonuma-Hecke algebras and the HOMFLYPT polynomial, Journal of Knot Theory and its Ramifications 22, No. 14 (2013), 1350080.

With Lo&iumlc Poulain d'Andecy, Representation theory of the Yokonuma-Hecke algebra, Advances in Mathematics 259 (2014), 134-172.
With Guillaume Pouchin, Determination of the representations and a basis for the Yokonuma-Temperley-Lieb algebra, Algebras and Representation Theory, Volume 18, Issue 2 (2015), 421-447.
With Nicolas Jacon, On quantized decomposition maps for graded algebras, Algebras and Representation Theory 19, No. 1 (2016), 135-146.

With Lo&iumlc Poulain d'Andecy, Markov traces on affine and cyclotomic Yokonuma-Hecke algebras, International Mathematics Research Notices 14 (2016), 4167-4228.
With Vincent S&eacutecherre, The affine Yokonuma-Hecke algebra and the pro-p-Iwahori Hecke algebra, Mathematical Research Letters 23, No. 3 (2016), 707-718.
With Guillaume Pouchin, Representation theory and an isomorphism theorem for the Framisation of the Temperley-Lieb algebra, Math. Zeitschrift 285, No. 3 (2017), 1357-1380.
With Jes&uacutes Juyumaya, Konstantinos Karvounis and Sofia Lambropoulou, Identifying the invariants for classical knots and links from the Yokonuma-Hecke algebras, International Mathematics Research Notices (2018), 74 p., doi : 10.1093/imrn/rny013.
With Christina Boura, Eirini Chavli and Konstantinos Karvounis, The BMM symmetrising trace conjecture for groups G4,G5,G6,G7,G8, to appear in the Journal of Symbolic Computation.
---
GAP
All the programs presented here require the packages CHEVIE and VKCURVE. You can download
here
a version of GAP3, prepared by Jean Michel, which contains both packages. For up-to-date versions, you can visit
Jean Michel's webpage
.
Program for "Degree and Valuation of the Schur elements of cyclotomic Hecke algebras": DegVal.g.
---
Some links
Laboratoire de Math&eacutematiques de Versailles
Algebra and Number Theory Research Group of the University of Edinburgh
Chair of Group Theory of the EPFL
L'Institut de Mathématiques de Jussieu - Paris Rive Gauche
Mathematics Department of the University of Athens
Music of Thanos Tsouanas
xkcd
Abstruse Goose